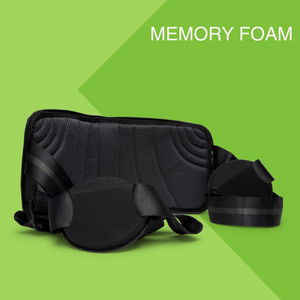 BetterBack Luxe
Sale price Price $59.99 Regular price
BetterBack Luxe features 
NASA engineered memory foam, giving you ultra sitting comfort.  Improve your posture and ease back pain with this compact life (okay, back) saver that makes every chair ergonomic. Wearing it for just 15 minutes a day can retrain your body's default posture, so when you stand or sit without BetterBack, your posture is greatly improved.
Customer Reviews
Write a Review
Ask a Question
12/11/2021
kathleen t.

United States
Better back review.
My better back has yet to arrive. Terribly disappointing. I ordered directly from you and it remains in transit. I should have ordered from Amazon and paid more and got it in two days.
11/06/2021
Sandra L.

United States
Betterback
Yesterday has. However I'm wondering why I didn't get the zipper storage
10/03/2021
Frances S.

United States
Great feeling!
It really makes a difference in my pain!!
10/01/2021
Becki G.

United States
Wonderful product
Better Back has been a big help. I travel long hours by car and this has helped so much with my sciatic pain. It's also helped tremendously with zoom meetings and sitting in a chair long periods of time.
09/17/2021
Pamela H.

United States
Didn't work for me unfortunately
My back issue is from the center of my back to my neckline, including my shoulders. BB focuses on the lower back up to the rib cage, so it didn't help me. I have a significant curvature and I'm hoping to avoid it getting worse and ending up completely hunched over as I get older. I need something that focuses on my upper back. It's my fault for not thinking that through when I bought it. ** please note that I cannot complete this review without checking off a box below indicating what's it helped me with. I had to choose posture improvement even though it didn't help. Please consider adding a "did not help" option, especially if we can't skip that question.
07/01/2021
Amy E.

United States
BetterBack
posture is feeling better.