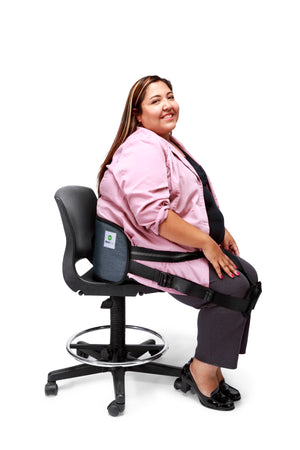 BetterBack Plus (up to 55" waist)
Sale price Price $79.99 Regular price $89.00
BetterBack Plus fits folks with a 43"- 55" waist
Mammas or anyone looking for an extra-big bear hug for their back.
Made with high-quality, durable materials and extra-thick foam
BetterBack Plus costs less than a trip to the chiro but will last you for years.
Ease back pain and retrain your posture in just 15 minutes a day!
"I'm pregnant with #3 and have a history of back pain and a job that keeps me typing at a computer for hours on end. Just slipping the Better Back on made it immediately better!
No Detail Spared
BetterBack Therapy is made from ridiculously high quality material that will last you for years, and yet costs less than a single doctor's visit, massage or chiropractic adjustment.
"I recommend BetterBack to my patients. It gives them a stress free, pain free way to sit throughout the day and re-educates them on how to sit properly."
-Dr. Craig Antell, Ambulatory Orthopedic Rehabilitation
Hear about the benefits of BetterBack from Dr. Craig Antell